Donald Trump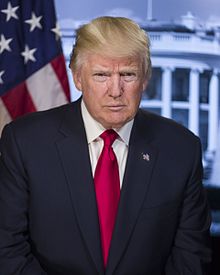 Donald John Trump (born June 14, 1946) is
American
and the 45th and current
President of the United States
.
Before entering politics, he was a businessman and television personality. Trump was born and raised in Queens, New York City, and earned an economics degree from the Wharton School.
He then took charge of The Trump Organization, the real estate and construction firm founded by his paternal grandmother, which he ran for 45 years until 2016.
During his real estate career, Trump built, renovated, and managed numerous office towers, hotels, casinos, and golf courses.
Besides real estate, he started several side ventures and has licensed the use of his name for the branding of various products and properties.
He owned the
Miss USA
and
Miss Universe
pageants from 1996 to 2015, and he produced and hosted The Apprentice, a reality television series on NBC, from 2004 to 2015.
His net worth was estimated to be $3.5 billion as of 2017, making him the 544th richest person in the world.
Trump won the general election on November 8, 2016, in a surprise victory against Democratic opponent Hillary Clinton, and commenced his presidency on January 20, 2017.
Trump has five children by three marriages, and has eight grandchildren. His first two marriages ended in widely publicized divorces.
Trump married his first wife, Czech model Ivana Zelnícková, they had three children: son Donald Jr. (born December 31, 1977), daughter
Ivanka Trump
(born October 30, 1981), and son Eric (born January 6, 1984).
In 1992 following Trump's affair with actress Marla Maples, In October 1993, Maples gave birth to Trump's daughter Tiffany.
Trump married Slovene model
Melania Knauss Trump
, on January 22, 2005 in Palm Beach,
Florida
.
In 2006, Melania acquired United States citizenship and she gave birth to their son Barron on March 20.
Upon Trump's accession to the presidency, Melania became First Lady of the United States.