Gisele Bundchen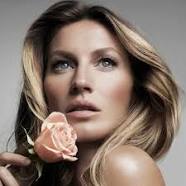 Gisele Caroline BŁndchen (born 20 July
1980
) is a
Brazilian
fashion model and occasional film actress.
She is the goodwill ambassador for the

United Nations Environment Programme
.
In the late 1990s, BŁndchen became the first in a wave of Brazilian models to find international success.
In 1999,

Vogue magazine
dubbed her "The Return of the Sexy Model" and she was credited with ending the "heroin chic" era of modeling.
BŁndchen was one of

Victoria s Secret Angels
from 2000 until mid-2007.
Since 2004, she has been the highest-paid model in the world and the sixteenth richest woman in the entertainment industry (as of 2007) with an estimated $150 million fortune.
From 2000 to 2005, BŁndchen was in a relationship with American actor
Leonardo DiCaprio
.