Orlando Bloom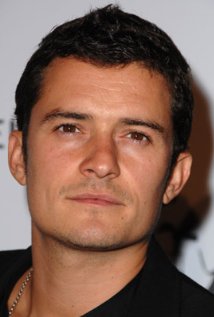 Orlando Jonathan Blanchard Bloom (born 13 January
1977
) is an
English
actor.
After having his breakthrough by starring in the

The Lord of the Rings
trilogy, he rose through fame by further appearing in epic fantasy, historical epic and fantasy adventure films.
His most famous roles include

Legolas
in the

The Lord of the Rings
trilogy and the

The Hobbit
trilogy, Will Turner in the

Pirates of the Caribbean
film series, Paris in Troy and Balian de Ibelin in

Kingdom of Heaven
.
He subsequently established himself as a lead in
Hollywood
films, such as Elizabethtown, and appeared in the ensemble films New York, I Love You, and Main Street.
Bloom made his professional stage debut in West End's In Celebration at the Duke of York's Theatre, St. Martin's Lane, which ended its run in September 2007.
In 2009, Bloom was named a UNICEF Goodwill Ambassador. He was married to Australian model
Miranda Kerr
.
Filmografy of Orlando Bloom
1997

Wilde
2001

The Lord of the Rings: The Fellowship of the Ring
(Legolas)
2001

Black Hawk Down
2002

The Lord of the Rings: The Two Towers
(Legolas)
2003

Ned Kelly
2003

Pirates of the Caribbean: The Curse of the Black Pearl
(Will Turner)
2003

The Lord of the Rings: The Return of the King
(Legolas)
2004

The Calcium Kid
2004

The Calcium KidTroy
2004

Haven
2005

Kingdom of Heaven
2005

Elizabethtown
2006

Pirates of the Caribbean: Dead Man s Chest
(Will Turner)
2006

Love and Other Disasters
2006

The Armenian Genocide
2007

Pirates of the Caribbean: At World s End
(Will Turner)
2007

Everest: A Climb for Peace
2009

New York, I Love You
2010

Sympathy for Delicious
2010

Main Street
2011

The Good Doctor
2011

Fight for Your Right Revisited
2011

The Three Musketeers
2013

Zulu
2013

The Hobbit: The Desolation of Smaug
(Legolas)
2014

Romeo and Juliet
(Romeo)
2014

The Hobbit: The Battle of the Five Armies
(Legolas)