Tamara de Lempicka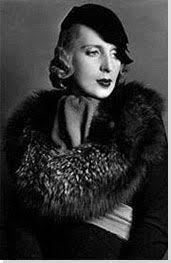 Tamara Lempicka, commonly known as Tamara de Lempicka (16 May 1898, Warsaw, Poland – 18 March
1980
, Cuernavaca,
Mexico
) was a Polish Art Deco painter and "the first woman artist to be a glamour star".
Influenced by Cubism, Lempicka became the leading representative of the Art Deco style across two continents, a favorite artist of many
Hollywood
stars, referred to as 'the baroness with a brush'.
She was the most fashionable portrait painter of her generation among the haute bourgeoisie and aristocracy, painting duchesses and grand dukes and socialites.
Through her network of friends, she was also able to display her paintings in the most elite salons of the era.
Lempicka was criticized as well as admired for her 'perverse Ingrism', referring to her modern restatement of the master Jean Auguste Dominique Ingres, as displayed in her work Group of Four Nudes (1925) among other studies.
Chronology of Paintings by Tamara de Lempicka
1923 Two Friends
1925 Le Modele
1925 Portrait of Prince Eristoff
1925 Portrait of the Duchess de La Salle
1925 Reclining Nude
1925 Self-Portrait in Green Bugatti
1925 Portrait du Marquis Sommi
1926 The Marquis D'Afflitto on a Staircase
1927 Kizette on the Balcony
1927 Portrait of Grand Duke Gabriel
1928 Two Girls
1928 Printemps
1928 Kizette Communiante
1928 Portrait of Man in Overcoat (Portrait of Tadeusz De Lempicki)
1929 Andromeda
1929 The Musician in Blue
1929 Dr. Boucard
1929 Portrait of Romana de la Salle
1929 Saint-Moritz
1929 Women at the Bath
1929 Femme a la Colombe
1930 The Green Turban
1930 The Telephone
1930 Girl in a Green Dress
1931 Idylle
1931 Nude with Sails
1931 Portrait of Madame Boucard
1931 Portrait of Pierre de Montaut
1932 Adam and Eve
1932 Portrait of Madame M.
1932 Portrait of Marjorie Ferry
1933 Portrait of Ira P.
1933 Portrait of Suzy Solidor
1934 Le Bretonne
1935 Girl Sleeping
1937 The Refugees
1939 Lady in Blue
1939 Mother Superior
1941 Key and Hand
1946 Amethyste
Date Unknown Breastfeeding
Date Unknown Calla Lilies
Date Unknown Dormeuse
Date Unknown Summer
Date Unknown Sketch of Madame Allan Bott
Date Unknown Portrait of Madame Allan Bott
Date Unknown Woman in Red (The Rose Tunic)